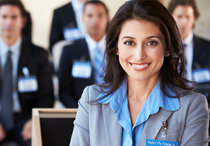 Summary

Start a Sooper Career

At Sooper, we believe that our employees are our most valuable assets and each employee contributes directly to our continued success. We have created a working environment built on trust, respect, and reward for effective performance. We are currently looking for upbeat, success driven and sales focused individuals to join our team. If this sounds like you, we invite you to take a closer look at a career with Sooper.

Credit unions are incredibly unique institutions, organized for the purpose of promoting our members financial well-being. Our company values your contributions toward making a difference in each individual member's life. Sooper is a not-for-profit, state-chartered, member-owned financial cooperative. Sooper Credit Union members are owners. Our members help us make important corporate decisions that reflect positively on our community. We empower each of our members with the ability to elect the volunteer Board of Directors and to determine how their credit union is operated.

We're a growing and successful financial institution with five branches in Colorado: Arvada, Denver, Aurora, Colorado Springs and Grand Junction!

We appreciate your interest in employment at Sooper and look forward to reviewing your qualifications. Consider starting a Sooper Career today!

Sincerely,

Dan Kester

President/CEO




Employee Benefits

At Sooper Credit Union, we offer a competitive salary with an outstanding benefits package for full-time and part-time employees. Employees who work 20 hours or more a week are offered the following benefits:

Health Plan, offering three options for medical coverage (including an HSA)
Dental Plan and Vision Insurance
Life Insurance, AD&D, Short Term and Long-Term Disability coverage
Optional Employee-paid Insurance Plan Coverage
Paid Time Off program for vacation and sick leave needs
Personal Days
Paid Holidays
Flexible Spending Accounts for pre-tax insurance premiums, medical expense reimbursements and dependent care reimbursements.
401(k) program with employee/employer match contributions
Employee Assistance Plan
Tuition assistance reimbursement
Discounts on Sooper Credit Union Services
Legal Counseling Services
Financial/Investment Counseling
Employee Events throughout the year

Sooper Credit Union is an Equal Opportunity Employer.

Accessibility

Disability Accommodations for Applicants

We're here to help you make your application process easier. If there's anything we can do to accommodate a disability during any portion of the application or hiring process, please let us know. Contact Susan Dilley (Director of Human Resources) for further assistance.

Email:

Phone:

303-427-5005

Please note these options are offered specifically for candidates who require accommodations due to a disability.