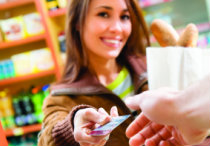 Summary

We offer MastercardTM credit cards for world-recognized purchasing power and greater flexibility at your fingertips! Build good credit history now, so you can get better loan rates in the future.

We offer two different types of Mastercard credit cards, depending on your particular needs. With low rates and online account management, you'll find this card easy to maintain with benefits that pay off!

Details:

Low competitive rates
Easy automatic online account management
Flexibility to make payments on purchases
Build good credit for future loans
Accepted most places worldwide
Easily replaced if lost or stolen
Choose between two types, depending on your needs:
Mastercard Platinum® Card
Mastercard Classic® Card
Talk to a Sooper representative for more information

To report your Mastercard credit card lost or stolen during business hours, call us at 303-427-5005 or toll-free at 1-888-SOOPER-1.




For full Mastercard disclosures, click here.

CardNavSM by CO-OP

Protect your cards – with security and control for cardholders.

Get unprecedented, real-time control over your Sooper debit and credit cards through your smartphone or tablet.

CardNav is a free app that adds another level of security to your card by letting you decide how and when it can be used.

Misplaced your card? Turn it "off" in CardNav, and you can turn it back on if you recover it. You can also set up alerts that let you know when specific types of transactions take place, or use CardNav to set personal spending limits that help you stay within your budget goals.

Details:

Turn your card "on or off" in seconds.
Use the GPS location of your device to only allow transactions around you.
Limit card use to specific merchants or purchases.
Receive real-time, in-app alerts that let you stop unauthorized purchases before they're complete.
Receive alerts when you're getting close to any personal spending limits you've set.

Download the free CardNav by CO-OP app and gain a new level of security and control over your money today.