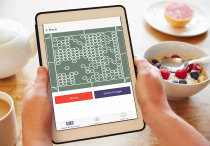 Details

Send money to friends or family without sharing sensitive financial information — theirs or yours! Need to split the bill or send birthday cash? Easily send money using SooperPay, our Secure Transaction Imaging [STI] software. SooperPay allows you to securely transfer funds directly from your checking or savings account using an encrypted image.

No need to waste time gathering financial information from recipients — all you need is an email address to start sending money.

Safely send funds through email
Simple and secure mobile wallet
Instant funds availability when transferring between in-network accounts
Download the app for easy access:
Easily register or access your SooperPay account here.
Account and card numbers are not shared with the recipient
Recipients don't have to have an existing Sooper account
Save valuable time; no trips to the credit union necessary



Data carrier rates may apply.