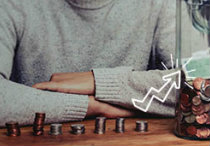 Summary

Why settle for rock-bottom rates when you can get rewarded with rates as high as the Rockies? Our free Sooper Cash checking pays really high interest. You'll also get refunds on your ATM withdrawal fees, nationwide* — so you can get to your money whether you're in the Denver area or anywhere else.

To earn these rewards, all you have to do are simple things that make banking easier anyway, like using your debit card. We basically pay you to bank with us!

Details:

Free checking with rewards
Earn 2.25% APY on balances under $15,000
Earn 2.25% APY to 0.73% APY on balances over $15,000, depending on balance in account*
Earn 0.05% APY if qualifications are not met
Get refunds for ATM fees nationwide (up to $25 monthly)*
No minimum balance to earn rewards
No monthly service charge
Several easy ways to manage your account via
Free mobile banking
Free telephone banking
Free Mastercard® debit card
Free e-Statements
Free nationwide access to your account via
Access to accounts at any CU Service Center location

Qualifications:

Qualifying is easy! To earn your rewards, simply do the following activities in your Sooper Cash account each monthly qualification cycle:

Have at least 15 debit card purchases post and settle during the qualification cycle
Be enrolled and receive e-statement notice
Deposit at least $500 via direct deposit/ACH credit into your account during the qualification cycle

That's it! If for some reason you don't qualify, don't worry. You still earn the base interest rate and the account is still free. You can get back to earning the full rewards the very next qualification cycle!

See our current rates.

Qualification Dates

Cycle Dates
Dec. 31, 2018 - Jan. 30, 2019
Jun. 30, 2019 - Jul. 30, 2019
Jan. 31, 2019 - Feb. 27, 2019
Jul. 31, 2019 - Aug. 30, 2019
Feb. 28, 2019 - Mar. 30, 2019
Aug. 31, 2019 - Sep. 29, 2019
Mar. 31, 2019 - Apr. 29, 2019
Sep. 30, 2019 - Oct. 30, 2019
Apr. 30, 2019 - May 30, 2019
Oct. 31, 2019 - Nov. 29, 2019
May 31, 2019 - Jun. 29, 2019
Nov. 30, 2019 - December 30, 2019



*APY=Annual Percentage Yield. APYs accurate as of 6/1/2019. Rates may change after account is opened. If qualifications are met each monthly qualification cycle: (1) Domestic ATM fees incurred during qualification cycle will be reimbursed up to $25 ($4.99 per single transaction) and credited to account on the last day of monthly statement cycle; (2) balances up to $15,000 receive APY of 2.25%; and (3) balances over $15,000 earn 0.50% interest rate on portion of balance over $15,000, resulting in 2.25% - 0.73% APY depending on the balance. If qualifications are not met, all balances earn 0.05% APY. Qualifying transactions must post and settle to account during monthly qualification cycle. Transactions may take one or more banking days from the date transaction was made to post and settle to an account. ATM-processed transactions do not count towards qualifying debit card transactions. "Monthly Qualification Cycle" means a period beginning one day prior to the first day of the current statement cycle through one day prior to the close of the current statement cycle. Transfers between accounts do not count as qualifying transactions. Limit one account per SSN. ATM receipt must be presented for reimbursement of an individual ATM fee of $5.00 or higher. Fees could reduce earnings.
Data carrier rates may apply.