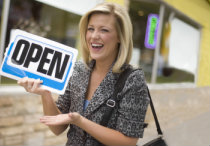 Business Loans
Sooper Credit Union offers business loans through our partnership with Centennial Lending. Centennial Lending is locally owned and operated by credit unions. Just like your home equity and auto loan, your business loan request will be processed, underwritten and approved locally by lenders with years of lending experience right here in Colorado! Sooper Credit Union's partnership with Centennial Lending provides you with these specialized loan programs.
Commercial Mortgage Loans
Sooper's expert lenders are familiar with the Colorado real estate market and can create a plan that meets your business' needs, whether it's for purchasing, refinancing, expansion and more.
Commercial Vehicle Loans
Avoid putting miles on employees' personal vehicles. Take out a commercial vehicle loan — we offer low rates and affordable financing.
Term Loans
Apply for a term loan to get your business up to speed. A term loan can help cover a number of needs, from new inventory, to upgraded or new equipment, and more.
Commercial Lines of Credit
A line of credit offers the flexibility of ready financing: draw what you need, when you need it. Pay interest only on what you use, and when you pay it off, reuse it without having to reapply.
Construction & Consumer Loans
We offer occupied consumer and commercial construction loans, customized to your business' particular needs. We'll walk you through development and real estate — in-house processing ensures efficiency and attentive service.
Equipment Loans
New or upgraded equipment can mean the difference between making it and making it big. Apply for a loan to get your business up to speed.